Biography
Glad you stopped by!
Budd Albright was born Forrest Edwards Albright on August 18th, 1936 in Elkhart Indiana of Dutch-Irish and Italian parents. His father was an athlete who played professional baseball for the St. Louis Cardinals and was inducted into the Indiana and Spalding Hall of Fame. He was the first man in the state of Indiana to run the hundred yard dash in 10-sec. flat. His mother Jeanne was a would be actress who met Budd's father after a local theater performance when they met for coffee, they soon married. In 1936 Budd was born and the young family moved to Los Angeles. Budd has two younger brothers Brian and Tom (both deceased). Times were tough and they lived in a small apartment that overlooked the back lot of Paramount Studios. Budd's parents worked hard and Budd spent a lot of time with his grandmother Viola who had followed her lover Buck from Chicago who worked in the in the film industry. It was Budd's grandmother who had been General Douglas MacArthur's personal secretary and had graduated from the Chicago Art Institute that exposed Budd to films, museums and fine restaurants of the day. The War took the family back to Cleveland, Ohio where his father worked for Republic Aviation building the P-47 Thunderbolt fighter plane. Budd's dashing Uncle Vic was a test pilot and flew combat missions over Europe.
At the end of the war the family moved back to Southern California and settled in Long Beach where Budd attended David Starr Jordan High school and hung out with the late Bob Denver, (Gilligan's Island). They both were kicked out of drama class for horsing around. In 1953 his family returned to Cleveland and Budd attended Willoughby High school for two years. On a bitterly cold night in a downtown Cleveland theater watching The Wild Ones with Marlon Brando, Budd knew what he wanted to do; Get out of the cold and return to the sunshine of Southern California and give the movies a try.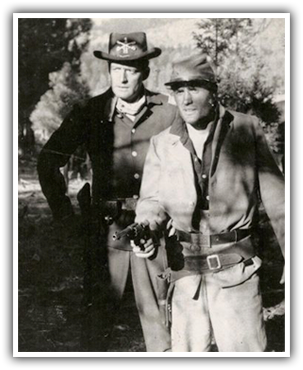 In 1955 Budd returned to LA, parked cars in Beverly Hills, pumped gas in Pacific Palisades and joined Richard Boone's acting class on a tip from actor Billy Gray, (Father Knows Best). His roommate at the time was another struggling actor Doug McClure, (The Virginian). The daughter of a Hollywood producer got Budd his SAG card and he worked in a few films and TV shows as an extra, then landed a record contract at RCA Victor. He and actor and record producer Steve Rowland put a group together and toured playing all the hot spots around Hollywood, the Sunset Strip and LA club circuit.
Budd Albright began his acting career in 1961, with a small part in the Warner's film Lad A Dog. He spent a year living with the late Peter Breck, (Big Valley) and his wife Diane in the San Fernando Valley. He spent most of his time at Warner Bros. with small bit parts. Budd would get together on weekends with friends Robert Fuller, James Stacy, Chuck Courtney, actor/stuntmen Jerry Summers and Ronnie Rondell riding dirt bikes and partying at Bob Fuller's house. It was Jerry Summers that convinced Budd to try his hand at stunt work.
The early sixties produced a flourish of war films that were perfect for young up and coming actor/stuntmen. Budd has stunt doubled Robert Vaughn, Robert Wagner, Warren Batty and Chris George. Worked in What Did You Do In The Way Daddy - Beau Geste - First To Fight - Toburk - Ice Station Zebra and There Was A Crooked Man and was part of the original Rat Patrol Stunt Team. He appeared in three shows of the first season of Star Trek as an actor being killed off in all three shows. In the late sixties & early seventies Universal Studios was bursting with activity with TV shows and films. Sometimes Budd worked two or three shows at once with parts that included action sequences. Budd logged 31 high falls, had parts and was action coordinator on Drive Hard Drive Fast and The Lonely Profession for writer/director Douglas Heyes. In 1964 Budd was contacted by friend James Drury, (The Virginian) that Clu Gulager was producing Bye Bye Birdie for summer stock in North Carolina, Budd jumped at the part of Conrad Birdie, one of the leads. Budd has worked with Hall of Fame stuntmen Hal Needham, Ronnie Rondell, Glenn Wilder, Roger Creed and Bill Hickman of (Bullet fame) and was the first actor/stuntman to be signed by a top commercial agent Nina Blanchard and appeared for two years as the Belair Cigarette Man on TV and in magazines. He has raced Karts with Paul Newman and Keenan Wynn - also sports cars - holds an APBA Grand National Boat Racing Record. Currently races bicycles and team captain for Rinaldi/To Be Healthy cycling team. He left the acting/stunt business in 1974. Worked as a photo journalist with producer Gary Berwin and has written 32 magazine articles. Formed Strike Team Media in 1994 a TV-Promotional Advertising firm and is currently working on getting his screenplays, Closest of Enemies and TV series idea; HLS Coconut Grove into production. He travels a lot and resides in Palm Desert, California...
Trivia
After playing touch football at a park in Beverly Hills with Elvis and his boys one Sunday afternoon, his road manager Joe Esposito pulled Budd aside; "Elvis has invited a few people up to the house for drinks after the game, would you like to come? Of course Budd accepted. In the bar and playroom there were a number of good looking girls slinking around the room. Budd spotted a white piano off in a corner and began fooling around. After a few minutes he heard a voice behind him; "Say man, that's cool would you show me that? It was Elvis.They sat there for 30 minutes or so singing Elvis's songs. Budd would do a verse then Elvis. Finally Elvis glanced at his watch, "I got to get some sleep I have to be at the studio early tomorrow morning - Thanks for coming up and stay as long as you want". Then Elvis disappeared.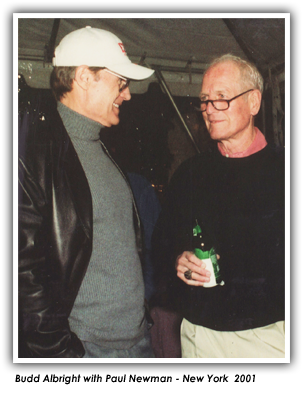 Budd met Scott Newman, (Paul Newman's late son) at a stunt school in the San Fernando Valley. He sold Scott his first car, a white Porsche coupe. Of course Paul had to drive it. It was Scott's seventeenth birthday gift...

When writer/director Douglas Heyes was writing The Lonely Profession an NBC movie for TV, Heyes mentioned he was having a hard time finding the right music for the film. The film took place in San Francesco. Budd brought him the recording of Going to San Francisco, Heyes loved it and used the song as the title song in the film...
Appeared in three Dating Game Shows and was picked all three times...

Budd Albright was one of two of the first Red Shirt Security Officers that appeared on the first show; WHAT ARE LITTLE GIRLS MADE OF, released September 8, 1966 on NBC in color. Also Budd was the first Red Shirt to be killed on the show. Budd would return to wear green shirt but also would meet the same fate.


Budd Albright




"What Are Little Girls Made Of?"




-Rayburn-